Dreamwalls is a family of products offered by Gardner Glass Products to enrich your world using the beauty of glass and mirror in creative ways. Gardner has been putting beautiful, durable coatings on glass since 1962. In 2000, the Dreamwalls vision was born as an umbrella brand of glass products to help create unique, and colorful interior spaces.
At Dreamwalls, we strive to deliver innovative glass products that glass glaziers, contractors, architects, and designers can build their business and reputation on. Our goal is to help you succeed with glass.
We understand that your orders need to be not only produced precisely on spec, but also consistently delivered on time to keep your projects on schedule and budgets on target.
We choose to compete on distinction among competitors by emphasizing: Service, Quality and an Entrepreneurial Approach to Business.
We believe that good values not only help provide a more meaningful life, but also result in happier employees that enjoy what they do and produce great results for our customers. In short, great values in proper priority are a win for everyone.
Faith
Family
Health
Country
Dreamwalls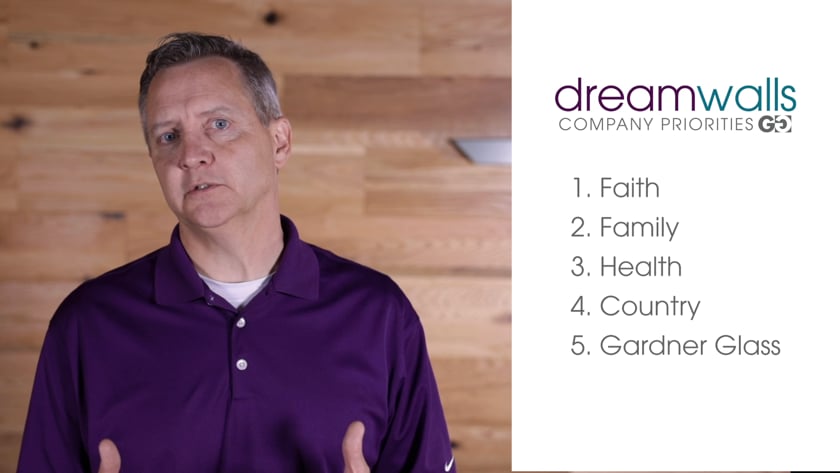 Over six decades of innovation…and counting.
Long Version
Short Version
1930-1960
: The Groundwork
Gardner Glass Products, formerly Gardner Mirror Corporation, was founded on July 5th, 1962 by one of the industry's legendary figures, Mr. Edd Frank Gardner. Gardner had a long history of success in the industry before forming his own mirror company in 1962.
The most notable impact of Mr. Gardner's career before 1962 was his tenure with Carolina Mirror Corporation, also based in North Wilkesboro, North Carolina. Edd Gardner founded Carolina Mirror Corporation in 1936. He remained President of Carolina Mirror until his departure in 1961.
No one else in the mirror industry can match the accomplishments of Edd Gardner; then or now. He founded and built the two premiere mirror companies in the United States – both in the same town – making North Wilkesboro, NC the mirror capital of the world for many decades. The name Gardner has since become synonymous with success, quality, and integrity in the trade and local communities.
After opening his own company – Gardner Mirror Corporation – on July 5th, 1962, the next step for Edd Gardner was to find new ways to grow. Edd Gardner and his son-in-law, Don Culler, who he had brought with him from Carolina Mirror, held visions for the future which were very unique to the industry at the time. The Gardner management team of the early sixties was looking for ways to change and add new avenues of distribution.
The vision provided by Edd Gardner and Don Culler at Gardner Mirror helped to revolutionize the industry. At the time, the mirror industry was focused primarily upon OEM (original equipment manufacturer) applications. Mirror was identified as a traditional looking glass, something that served a function only.
Today, mirrors are seen as fashionable and decorative products. A full wall of mirrors could be used as a decorative element. This idea of glass wall cladding can be attributed to the vision of Gardner and Culler.
It is important to note that along this same time, the float glass industry was revolutionized. Previously, glass used for mirrors was poured and had to be buffed to a polish and smoothed before adding the silver. Glass could only be made so big at the time, and it was very labor intensive.
The float glass process allowed a uniform thickness of glass to flow as a continuous ribbon, on a tin bath, with larger sizes and a smoother surface than ever before. While this was key for the design and use of architectural glass in curtainwall applications of buildings, it was also perfect timing for Gardner Mirror's interior products.
1970-1989
: Expansion and Growth
In the early seventies, the leadership of Gardner Mirror saw fit to expand its distribution business in order to get their "mirror products to the wall" and market their new philosophy for mirror products. Edd and Don were going to find ways to support their customers.
They felt that sales growth depended upon the commitment behind the products to be sold. Therefore, Gardner had a need for its own in-house distribution centers in key markets. At the time, this approach was revolutionary and served to complement its strong independent customer base. The distribution philosophy was added to Gardner Mirror Corporation as a means to add value for their customers, not as a method of competition with them.
Gardner opened its first distribution center in June of 1973 in Phoenix, Arizona. Another facility was opened in Arlington, Texas in 1982. Over the years, Gardner was focused on flexibility in distribution, with locations in various markets over the years as the regions required: Salt Lake City, Denver, Orlando, and DC were all homes to a Gardner location at one time or another. These facilities were strategically located to support the growth of GGP products and the value-added vision that Edd Gardner held for the company from its beginning.
In the late eighties, Gardner opened a second silvering facility in Huntsville, Texas, acquiring the line from Texas Mirror. This facility manufactures copper-free mirror in a 2-coat system that is unique to the industry, and still among some of the finest and best performing mirrors available in the world today.
1990-1999
: A Time of Change
When Edd Gardner died at age 87 on November 30th, 1988, Don Culler easily made the transition to the corner office. An Air Force veteran with a business college education, he now had two grown daughters with husbands of their own. While the daughters were not interested in the family business, Culler began to groom his sons-in-law in the same way that Mr. Gardner prepared him for the leadership of the company.
It was a time of change and growth both within the company and within the industry as the furniture industry saw the first shifts of manufacturing going overseas.
Don Turner Culler passed on February 10th, 1991 at the age of 65, leaving his sons-in-law, Mark Pegram and Peter Hurd, to carry on the family business. Hurd managed operations in Texas, living in Dallas with his wife Donna; and Pegram remaining in North Carolina with his wife Patty to run the corporate headquarters.
In 1995, Gardner Mirror Corporation changed its name to Gardner Glass Products, Inc. to better reflect the wide variety of products they now could provide to their customers.
As furniture manufacturing drifted further overseas, the company pushed even more into fabrication with tempering, shower doors, and a growing mass merchant division that provided framed and builder mirrors to another local home-grown business: Lowe's Hardware (now Lowe's Companies).
In the late 1990's it was decided by the Gardner family to sell the company to the right buyer. In 1999, three former Carolina Mirror employees emerged to buy the company: F. Tommy Huskey as President & CEO, Randy Brooks as COO, and Melissa Lackey as CFO; all three from Wilkes County, and all three experienced from Carolina Mirror. Huskey previously worked at Carolina mirror for 16 years prior, and as President from 1991 to 1995, before coming to Gardner in 1996.
New brands emerged as innovative new product lines at this time. Tommy Huskey was the creator of the Dreamwalls vision for Gardner Glass Products, which grew to become our umbrella brand of the company's value-added products.
"Dreamwalls" was at the very core Gardner. Huskey urged his employees to wake up every day trying to find new products and new uses for our products on every surface of the living and working environment.
This vision led to the creation of Dreamwalls Color Glass back-painted glass, the first US-made back-painted glass for interior use and still the highest quality back-painted glass available in the country.
In 2002, the Carolina Mirror – Gardner Mirror relationship came full circle. Gardner was able to buy the Carolina Mirror brand through a corporate acquisition. With the influx of framed mirrors from overseas, the company had struggled and its core business was depleted. For the time being, the Carolina Mirror brand is being protected and held without use by Gardner Glass Products, but it will always be respected by the Gardner company.
2010-2019
: Lean Diversification
Sadly, Tommy Huskey died on November 27th, 2011; at the young age of 57. By that time, Randy Brooks had already been named President, and with Melissa Lackey remaining as CFO and CIO, the transition went smoothly despite grief over the loss.
Business continued during what turned out to be one of the worst recessions to the U.S. economy and construction industries. During this time many competitors went out of business or were bought by private equity groups. Consolidation was changing the face of the mirror and decorative fabrication industry.
Gardner Glass Products was lucky enough to be able to trim locations to survive the recession. It maintained a strong relationship with Lowe's Companies as their main provider of mirrors and grew Gardner's importing and logistical expertise.
The diversification into a variety of highly fabricated decorative glass products helped bolster the decreased demand of mirrors during the lagging construction drought.
Lean Manufacturing (TPS), of which Randy Brooks had been a student and advocate for nearly a decade prior, was vital in keeping costs low and efficiencies high. Partnerships with key suppliers were strengthened, and every order was carefully evaluated to keep the company strong.
Today & Beyond
: Determined Design
Today, Gardner Glass Products is proud to maintain one thriving distribution location in Indianapolis, Indiana; which serves the Midwest region. It also treats its two manufacturing locations in North Carolina and Texas as distribution centers for the company as well, servicing Southern, Southwest and Mid-Atlantic states from those locations.
Gardner also maintains its employee ownership ESOP, with the leadership that owns the company being the same leadership that runs the company every day, creating a passion and work ethic that is second to none.
Gardner prides itself on being a leader in glass coating technologies, not just with high-quality mirror and world-class silvering capabilities, but also with leading-edge products like Dreamwalls Color Glass®, Dreamwalls Antique Mirror, ProSuede Glass for Markerboards, and many more.
Gardner Glass Products will continue to improve the uses of decorative glass not only in your home and commercial interiors, but to make the whole world a more beautiful place to be.